Discover more from The German Review
News & analysis on politics and current affairs in Germany. Helping an English-speaking audience stay smart about Europe's major power.
Over 4,000 subscribers
When is a mask a mask? | Driving into the abyss | A false alarm in the Interior Ministry
The newsletter is a 6 minute read
Hi folks,
We're looking back at when Daimler saved Tesla, the biggest book deal of the year (that never was), and a deafening silence at 11am on Thursday. Enjoy!
Regards,
Jörg & Axel
---
'A mask isn't a face covering'
Here's a seemingly contradictory state of affairs. The city of Berlin just passed a law making masks obligatory at demonstrations, even though there is a national law banning face covering at the very same demos.
The Berlin law is aimed against the far-right, who turned up for an anti-corona demo in August and refused to wear masks. The national law is aimed at the far-left, who wear masks to ensure their anonymity.
The no-mask rule was most recently in the headlines at the G20 summit in Hamburg three years ago when police stopped a protest march because "black bloc" activists were covering their faces. The ensuing rioting and looting left parts of the city looking like a war zone.
I asked Berlin's interior ministry how the two laws are compatible. 
"The one has nothing to do with the other," they assured me. "Wearing a mask in public is not covering the face per se. Those people who wear a mask to protect against infection will have no problem taking it off briefly or handing over their personal details if necessary."
Sure, but the type of people who chuck bricks through windows probably aren't going to "take their mask off briefly" while chatting to the nice police officer.
In Leipzig last weekend, three evenings of registered demonstrations ended up in riots. In photos, the demonstrators were dutifully covering their faces.
Here's a prediction: at some point in the coming months, a debate will flare up over whether compulsory masks at demos are an invitation to violence or a necessary buffer against the virus.
J.L.
---
A bit of gossip
A well-placed informant has told us that the most unlikely celebrity of any other year, virologist Christian Drosten, was recently offered €1.5 million for a tell-all memoir by one of Germany's biggest publishing houses. He turned down the eye-watering sum, as the publisher insisted on him spilling the beans on his private life.
But a literary agency is still trying to hook him a book deal. So we might yet get the Drosten Diaries - an inside account of his guerrilla war against Bild Zeitung and Alexander Kekulé .
J.L.
---
Daimler driving into the abyss?
In his fourth year at the helm of the iconic German car-maker Dieter Zetsche made a bold move. He invested €50 million of Daimler's cash in a struggling Californian startup, valuing the business at $500M. 
In 2010 it was a hefty price tag for a company whose main achievement up until that point had been to retrofit a Lotus Elise sports car with an electric engine, of which it had sold only about a thousand models. 
"We would never have made it without Daimler" the cash-strapped Elon Musk said of his saviour at the time.
"The car of the future is electric," Mr Zetsche claimed even a year before the Tesla investment, as he unveiled a deep ranging technology partnership with the Californians. 
Ten years later Elon Musk's startup is the world's most valuable automotive company. Daimler on the other hand is not as electric as Mr Zetsche had hoped...
Inflexible trade unions and an unclear strategy have limited investment in new technologies. In recent years Daimler has been preoccupied with the diesel emissions scandal and billion-dollar lawsuits. The company has done everything but produce electric cars - instead spending hundreds of millions on their Formula-1 race team. Their first e-car, the EQC, was unveiled to much ridicule in 2019.
Zetzsche retired the same year and left his successor Ola Källenius with a company as antiquated as his walrus moustache.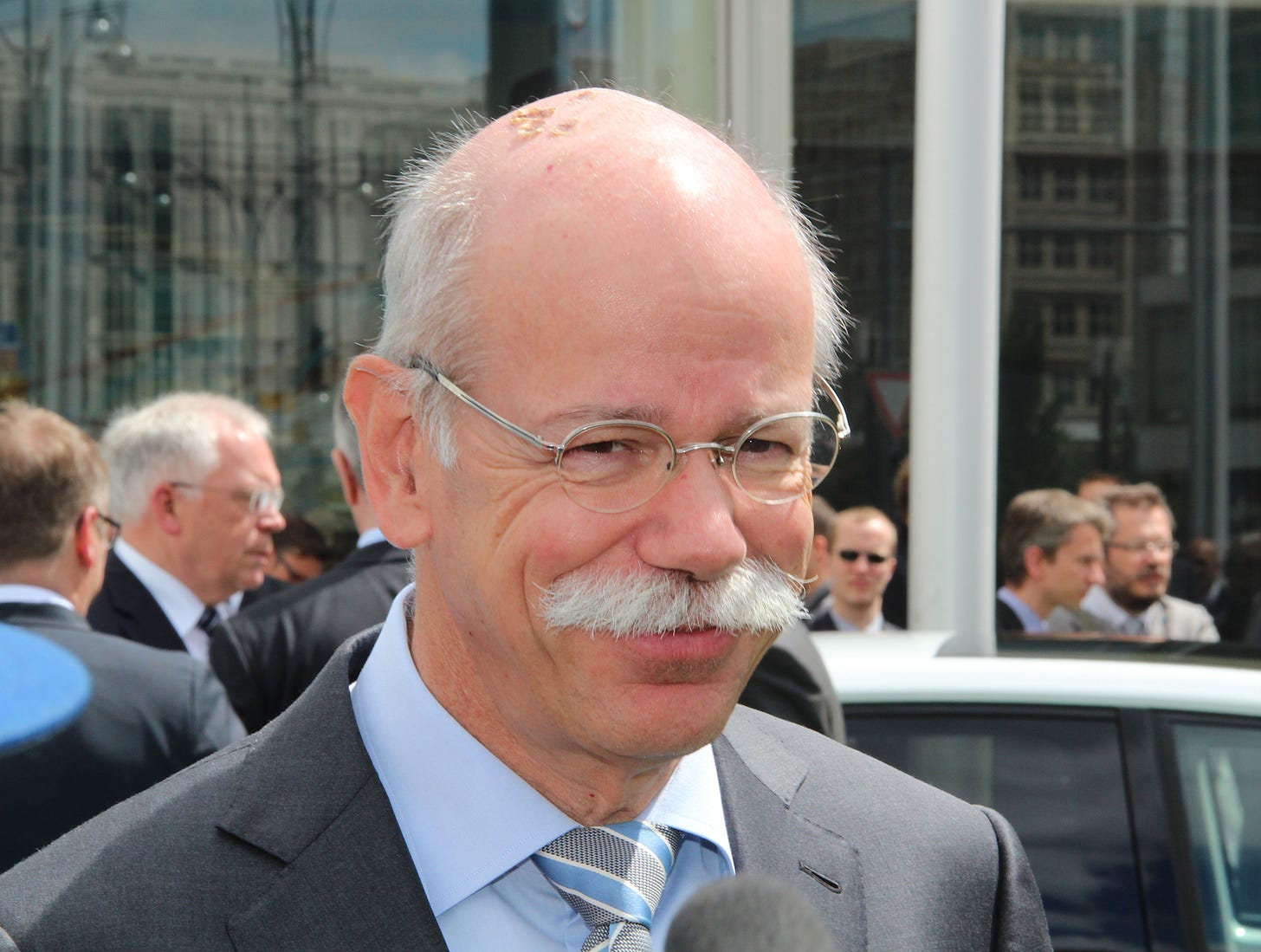 Källenius presented the new S-class earlier this week. It doesn't just have heated seat cushions and integrated perfume dispensers, it also has a fuel thirsty combustion engine. It's not an ideal car for the current age - even its smallest engine emits twice as much CO2 as EU standards permit (meaning other models need to emit less to offset it).
Daimler is in a bind - the company desperately needs to invest in new technology yet Corona has pushed car sales and profits off a cliff. 
That Tesla stake, worth around $7 billion today, would have come in handy. If only Mr. Zetsche hadn't sold it for a fraction of that amount some years ago...
Still, it might be too soon to count the Swabian car maker out. In the second quarter of this year their lanky Swedish boss pulled off an achievement no one thought possible - ruthless production cuts led to a sliver of positive cash flow.
Källenius' next battle will be with Daimler's notorious unions, who for decades have kept labour costs high and profitability low and, fearing job cuts, have pushed back against the "electro delusion."
"I think the last time we actually technically laid somebody off in Germany was back in the 1960s," Källenius told the Financial Times earlier this week.
Whether the Swede will drive Daimler into the abyss in a perfumed S-class or into the future in next year's electric EQS (which supposedly has a range of 700km - outpacing even Tesla), only time will tell.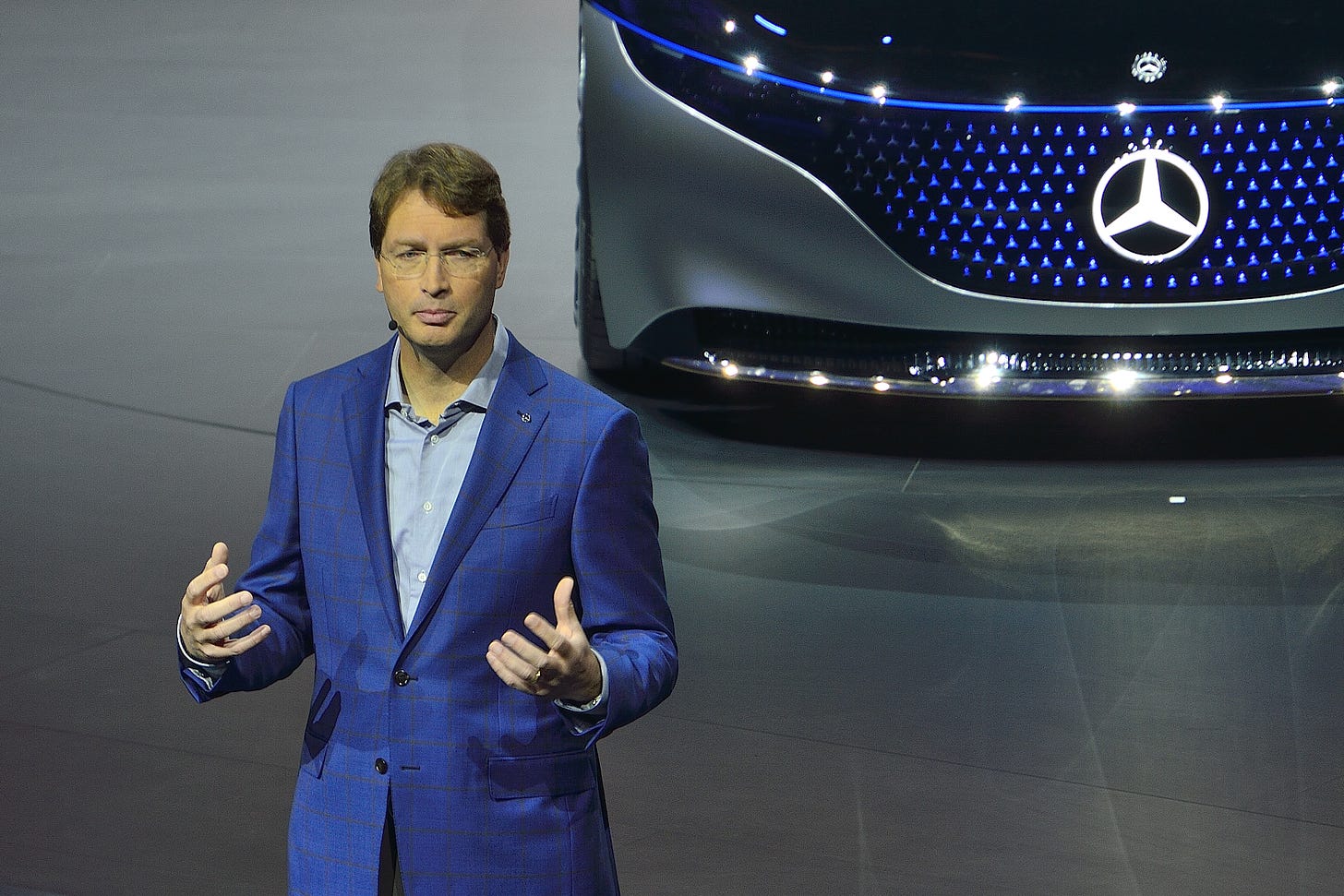 If he fails, the company's weak and distributed shareholder base makes the one time industrial gem a prime acquisition target. This time around Daimler might need a saviour, perhaps one from California…
A.B.B.
---
And finally... 
No matter how hard it tries, Germany can't seem to shake off its reputation as a country of competent governance. The latest evangelist is British journalist John Kampfner, whose new book Why the Germans do it Better claims that the secret to Teuton success lies in small things like well-insulated windows. (If you live in a Berlin Altbau, you might have a bone to pick here).
For all it does right, Germany can be as incompetent as the best of them, though. This fact was perfectly illustrated by yesterday's Warntag, when sirens were supposed to go off across the country at 11am to raise awareness about disaster situations. We were also supposed to get a push notification via an app called NINA.
The only problem? Most cities haven't had sirens since the end of the Cold War. And because no one thought to coordinate the push notifications, local authorities and federal agencies all sent them at the same time, leading to the system collapsing.
The result was a deafening silence.
"A useful lesson," is how the Interior Ministry described it. "A fiasco," was the appraisal of an FDP politician.
J.L.
---
Who we are:
Jörg Luyken: Journalist based in Berlin since 2014. His work has been published by German and English outlets including der Spiegel, die Welt, the Daily Telegraph and the Times. Formerly in the Middle East.
Axel Bard Bringéus: Started his career as a journalist for the leading Swedish daily Svenska Dagbladet and has spent the last decade in senior roles at Spotify and as a venture capital investor. In Berlin since 2011.