Discover more from The German Review
News & analysis on politics and current affairs in Germany. Helping an English-speaking audience stay smart about Europe's major power.
Over 4,000 subscribers
The Glock, the bicycle and the wig...
This newsletter is a 3-minute read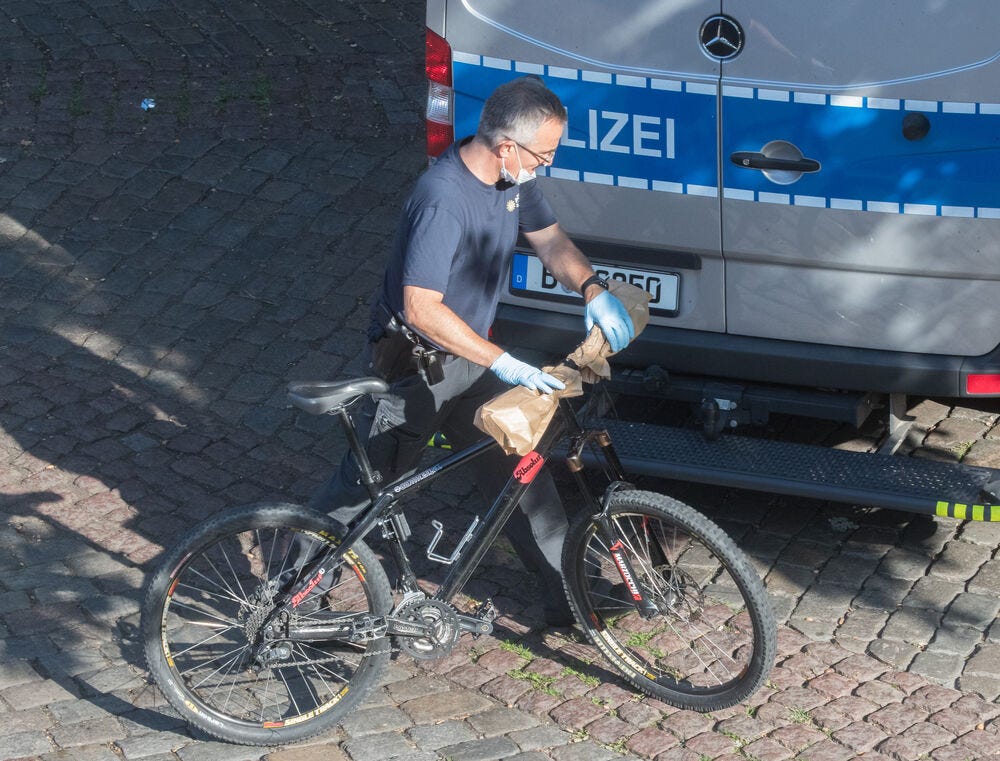 Imago Images/Olaf Wagner
Zelimkhan Khangoshvil was walking through the Kleiner Tiergarten park on his way to the mosque at midday on August 23rd last year when a man on a bicycle approached him from behind.
The stranger drew level, pulled out a silenced Glock 26 pistol and shot Khangoshvil in the chest. Both men were knocked to the ground. But the assailant rose to his feet, approached his victim and pulled the trigger a second, and then a third time.
Both bullets struck Khangoshvil in the head, killing him instantly.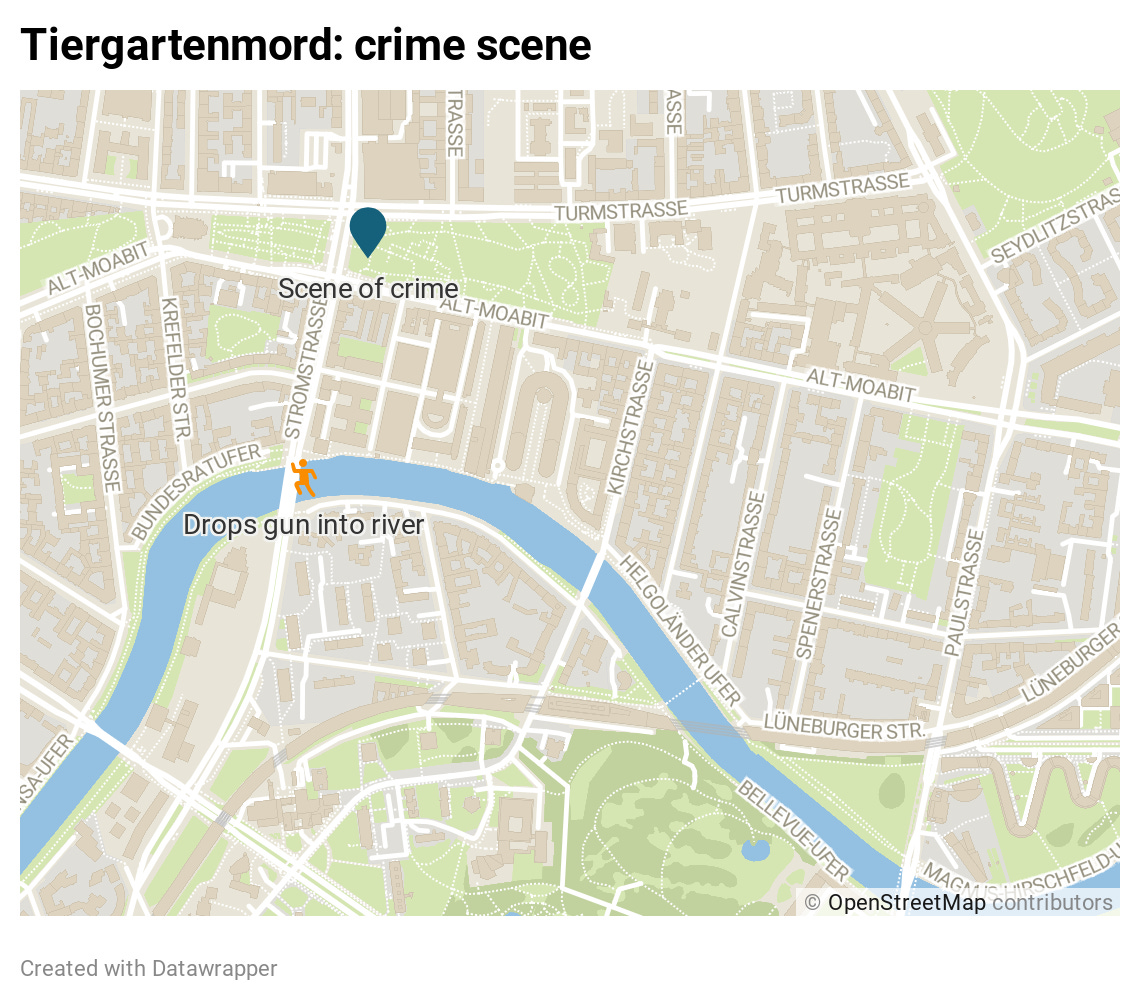 The gunman got back onto his bike and fled in the direction of Schloss Bellevue, the official residence of the German president. Reaching the banks of the River Spree some 400 metres away, he tossed his gun and a wig into the river.
But, while he changed his clothes at this point, bystanders had already alerted the police. When he came back out from behind some shrubs officers were waiting for him.
At first, the circumstances of the crime remained a mystery. Newspapers proposed a violent robbery after large sums of cash were found on the gunman.
But that explanation seemed too thin. It quickly emerged that Khangoshvil had been something of a folk hero in his native Chechnya, where as a young man he commanded a militia against the Russian military during the second Chechnyan war. In 2008, when Russian invaded northern Georgia, the Georgian government handed him command of a company of volunteer fighters.
---
Like what you're reading? German current affairs and news straight to your inbox three times a week. Subscribe here to get the Hochhaus newsletter:
---
After at least one attempt on his life, he fled to Germany in late 2016 and applied for asylum.
Who, then, was the stocky man sitting silently in a Berlin jail cell, whose forearms were tattooed with a snake, a panther and a crown? All that seemed certain was that the details on his passport - name: Vadim Andreevich Sokolov. Birth year: 1970. Place of birth: Irkutsk - were fake. No such person existed in Russia's own passport database.
Slowly, clues about the killing began to emerge, thanks mainly to Bellingcat, a small British website specializing in open source investigations. By early December, Bellingcat had established the hitman's likely identity, as well as publishing evidence that the Russian state had created a false person so that he could obtain a Schengen visa.
German investigators were playing catch up.
On December 3rd, German federal prosecutors took over the investigation. They also now had a name for the suspect. Five years earlier, Russia had issued an Interpol arrest warrant for Vadim Krasikov, a man suspected of murdering a prominent business in 2013. His photo matched the suspect in the Berlin jail cell.
The murder of the business man followed a remarkably similar pattern, Bellingcat revealed. On that occasion the gunman also approached his victim on a bicycle and shot him in the chest and head.
The international arrest warrant was quietly withdrawn in 2015. Could Russia have offered Krasikov his freedom on the condition that he employed his "talents" for them?
When Vladimir Putin next came to western Europe in late December, a German journalist asked him what he knew about the case. Putin replied angrily that Khangoshvil was a "murderous fighter" who'd been involved in a terror attacks on the Moscow metro. He insisted though that he had nothing to do with it.
But the revelations didn't stop coming.
Further work by Bellingcat published in February, based on analysis of the suspect's mobile phone records, showed that he had been in close contact with elite fighters in Russia's FSB spy service in the weeks before the attack.
By June, the Federal Prosecution had enough evidence to make an indictment. And they didn't prevaricate. "At some point before the date of July 18th, 2019 members of Russia's central government gave the accused the order to liquidate" Khangoshvil, says the published indictment.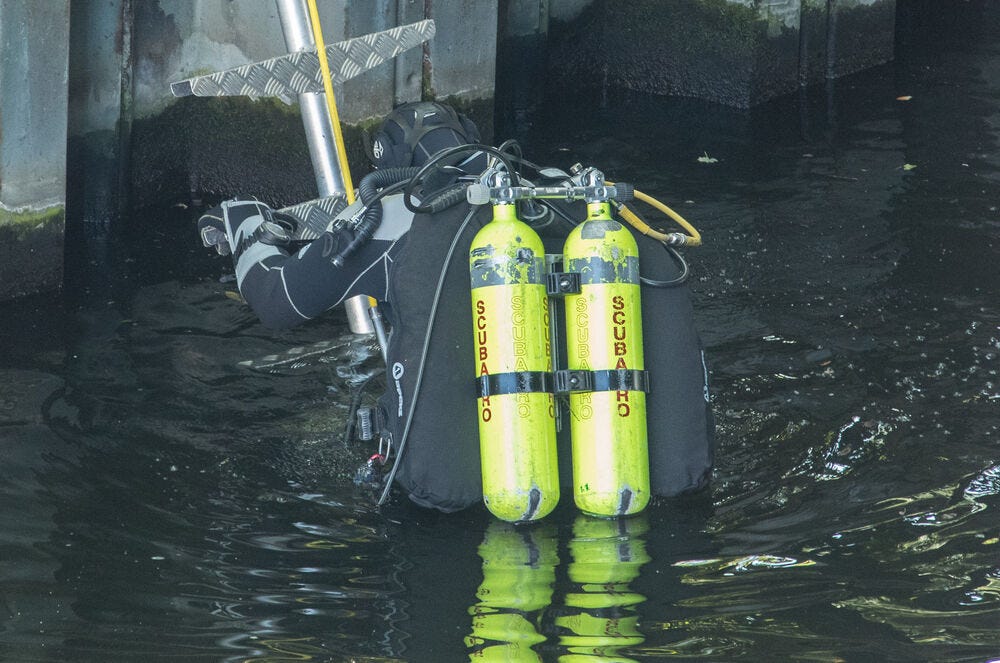 A police diver searches for evidence in the Spree. Imago images/ Olaf Wagner
At the start of the trial on Wednesday, the federal prosecution service issued its full indictment. It was remarkable not only for the fact that it accused Russia of an act of state terrorism on German soil but also because it relied so heavily on Bellingcats work. In 70 of the 240 footnotes to the indictment, the British website is cited as the source.
A Bellingcat researcher told broadcaster ARD it was "embarrassing" that prosecutors were relying on their work rather than that of Germany's well-funded BND intelligence service.
The trial is slated to last until January. It comes as Russian opposition leader Alexei Navalny continues his recovery in Berlin after surviving an assassination attempt with a high-grade nerve agent.
Germany prides itself on a moderate Ostpolitik that is strictly based on the rule of law. This trial could set a precedent though: a statement on the Kremlin's guilt that comes, not from Westminster or Washington, but from a German judge. That eventuality would make Berlin's cautious treatment of Moscow rather more difficult to justify.
J.L.
---
Sign up to get the best insights on Germany straight into your inbox!
---
Who we are:
Jörg Luyken: Journalist based in Berlin since 2014. His work has been published by German and English outlets including der Spiegel, die Welt, the Daily Telegraph and the Times. Formerly in the Middle East.
Axel Bard Bringéus: Started his career as a journalist for the leading Swedish daily Svenska Dagbladet and has spent the last decade in senior roles at Spotify and as a venture capital investor. In Berlin since 2011.
---
If this newsletter has been forwarded to you and you wish to subscribe, click here: