Discover more from The German Review
News & analysis on politics and current affairs in Germany. Helping an English-speaking audience stay smart about Europe's major power.
Over 4,000 subscribers
Can Volkswagen crush Tesla?
This is a 4-minute read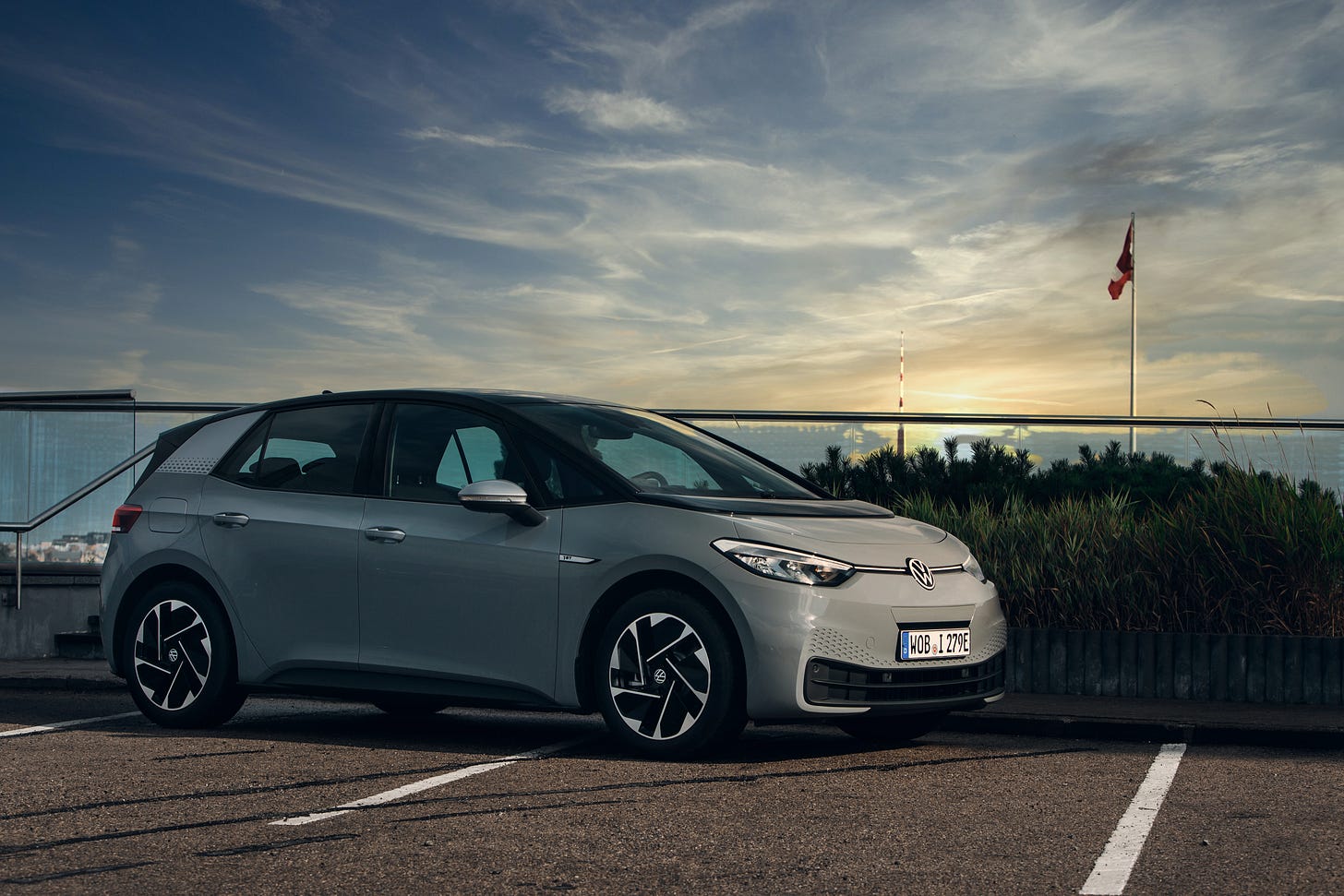 Volkswagen ID.3 - Tesla killer? © BoJack / Shutterstock.com
"What Volkswagen is really showing is that we've reached the limit of what's possible with diesel and gasoline," said Elon Musk in 2015 in response to the Dieselgate scandal which nearly tore the world's largest auto manufacturer apart.
It's fair to assume that Musk didn't imagine then that just five years later the Diesel-villain would be his fiercest competitor in the fight for dominance in the electric vehicle market.
Mr Musk's many missed deadlines and over-optimistic promises on Tesla's path from obscurity to becoming the world's most valuable automotive-company have driven Wall Street mad. But the PayPal co-founder has delivered on the plan he set out when he took over Tesla a decade and a half ago: start with high-margin luxury cars and work downstream towards an affordable mass-market electric vehicle.
Only around two million plug-in cars were sold globally last year, but even the crustiest of  German auto executives grudgingly admit that electric propulsion is the future. Even if they don't see the benefits in the technology, strict new EU emission targets for car companies, with billion-euro fines for violators, are showing them the cost of sticking to fossil fuels.
Either way, the Germans are late to the party. 
With the launch of Tesla's Model-3 in 2017, a compact car retailing at €45,000, Mr Musk has come a decisive step closer to his mass-market dream. Last year it crushed the competition with global sales of 300,000. The closest German model was BMW's i3 at 40,000.
---
Like what you're reading? German current affairs and news straight to your inbox three times a week. Subscribe here to get the Hochhaus newsletter:
---
The likes of Daimler and BMW desperately need to invest in new technology. Like all incumbents, they have to rely on debt financing. The public equity markets are closed to car makers as their stock is in little demand. Tesla on the other hand can tap the equity markets whenever it wants, and more or less for free thanks to its booming share price offsetting any dilution to existing shareholders. 
As car sales have taken a Corona-induced nose dive, so has the free cash flow necessary to service debt - making borrowing more difficult and expensive for the traditional auto giants. On top of its technological advance, Tesla has a growing competitive advantage in financing - crucial in the capital intense automotive business.
…..
Had it not been for a meeting at a Wolfsburg hotel one cold Saturday afternoon five years ago the proud history of German automotive engineering could have been over before its 150th birthday. 
On October 10th, 2015, Herbert Diess, the newly minted CEO of the Volkswagen brand, gathered his closest confidants to discuss the future of the company, which the emission cheating scheme had pushed to the brink of collapse.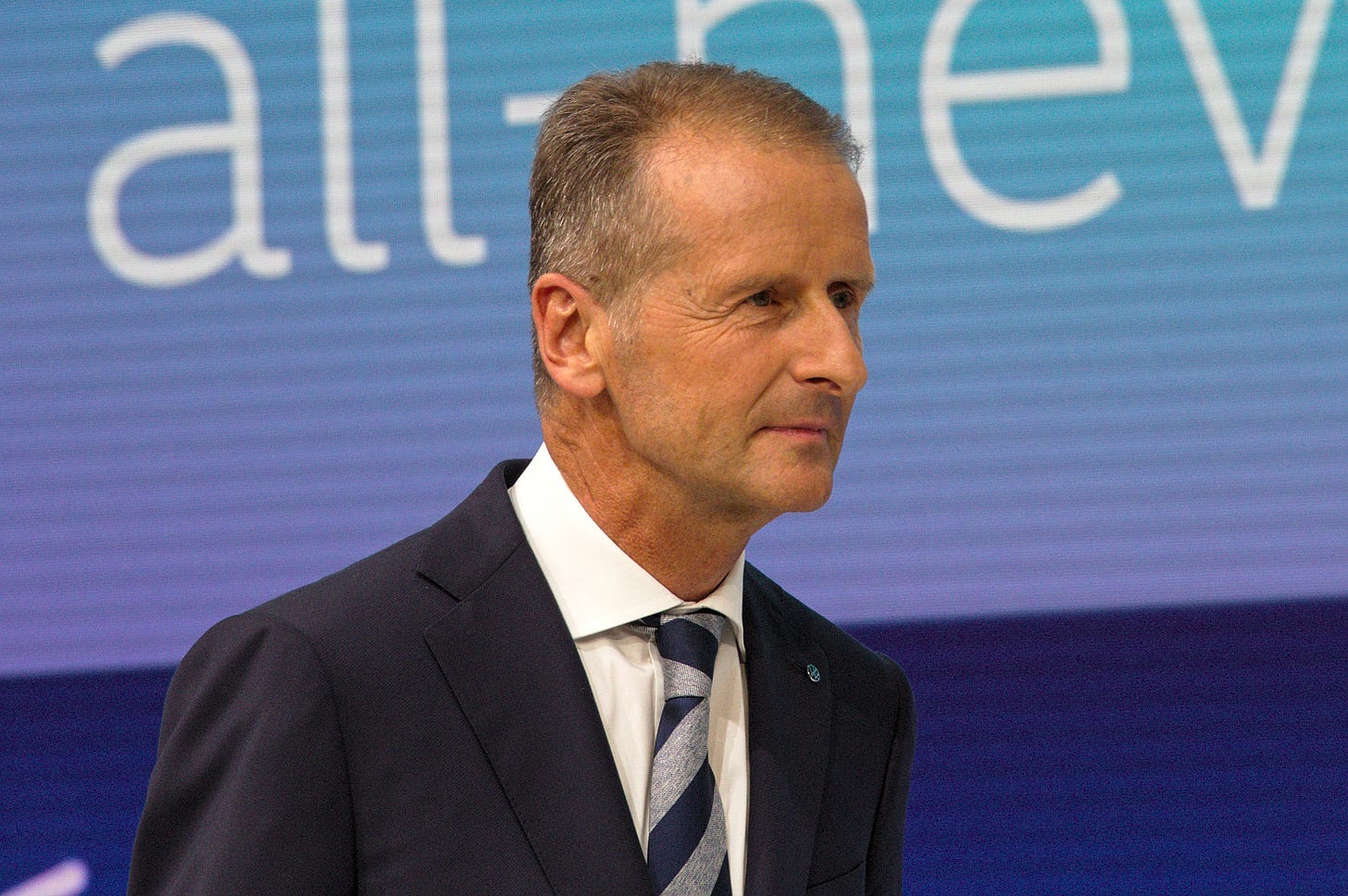 Herbert Diess - the saviour? ©
Alexander Migl
"We asked ourselves: what is our vision for the future of the brand? Everything that you see today is connected to this," a participant told Reuters, adding that "it was an intense discussion - so was the realization that this could be an opportunity if we jump far enough."
When the managers walked out of the room they had decided on a bold plan - under Mr Diess' leadership they would attempt what no carmaker had ever done before - profitably mass-produce electric vehicles. 
Volkswagen's rise from post-war ashes to the largest car manufacturer in the world was as remarkable as Tesla's recent ascent. Risking that by betting on a technology the company had no grasp of - and that few customers at the time were interested in - was an audacious move. 
To the disdain of the powerful IG-Metall union and its representative on the VW board, Bernd Osterloh, Mr Diess rose up to become CEO of the entire VW group, where he took his next bold decision - to end all production of combustion-powered cars by 2026.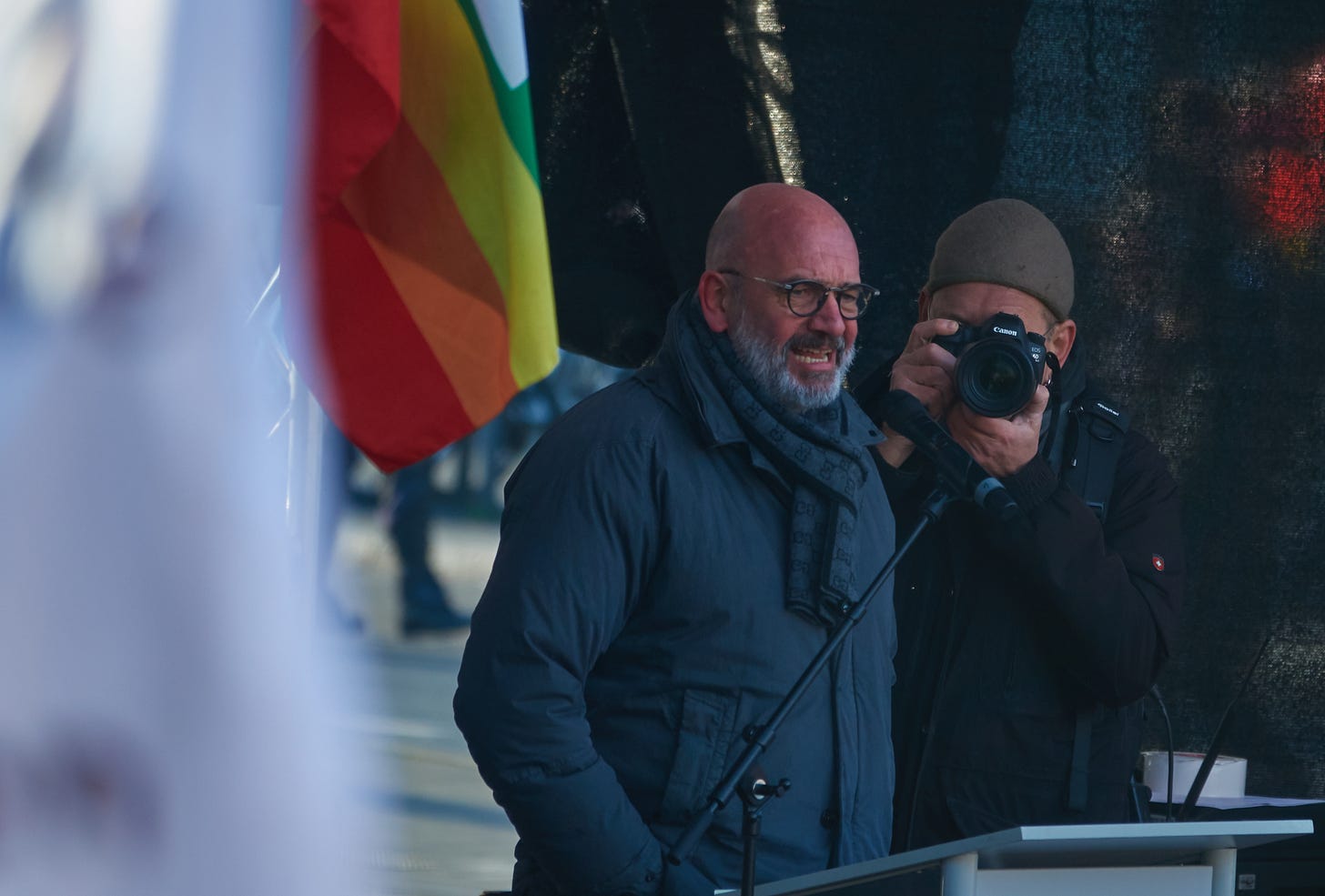 Bernd Osterloh - "the real regent of Wolfsburg"? © geogif / Shutterstock.com
Diess has since invested €80 billion in technology and production capacity for electric cars. With the fines and recalls over Dieselgate also mounting, Volkswagen is not only the world's largest car producer, it's also run up more debt than any other company on the planet - a staggering €162 billion. 
The VW boss' brash strategy has made him many enemies on the board of directors, who nearly sacked him this summer after he publicly accused them of leaking to the press.   
But in September of this year, his strategy started to pay off.
The ID.3 rolled out of the gates as the German giant's first purpose-built electric car. It doesn't just have a better range than Tesla's Model-3, the erstwhile market leader, it's also significantly cheaper. Early indications suggest that in Europe the car is outselling Tesla by a wide margin.
Wolfsburg's next broadside against Tesla is the ID.4, which is threatening the dominance of the Model-Y in the much larger SUV-segment. 
But Mr Musk is not a man to rest on his laurels. Next year he's taking the fight to Germany by opening the Gigafactory in Brandenburg, a mere 200 kilometers from Wolfsburg, where he hopes to produce half a million cars a year. 
While IG-Metall has no love for Mr Diess - electric cars require fewer workers to produce and by the time Volkswagen's new venture is at scale the current union membership will mostly be retired - their disdain for Mr Musk is even clearer. 
"Tesla doesn't have to show us how to build electric cars", said IG-Metall boss Jörg Hofmann, after a test ride in an ID.3.
To the chagrin of the union man, Tesla plans to organize the plant, where up to 40,000 workers might be employed, as a European SE. This form of corporation is beyond Mr Hofmann's control, as the unique German worker co-determination model, which has made the IG-Metall so powerful, does not apply. 
Herbert Diess and Elon Musk, on the other hand, get along just swell. Musk frequently visits Volkswagen in Germany and Diess openly displays his admiration for the Californian.
"Elon Musk delivers results that many have deemed impossible," he recently wrote on LinkedIn.
Maybe Mr Diess' frequent status updates on the career portal are because he's looking for a new job. If rumours in the German press are to be believed, his days at Volkswagen are numbered. After the spat this summer, the board wants him out...
A.B.B.
---
Like what you're reading? German current affairs and news straight to your inbox three times a week. Subscribe here to get the Hochhaus newsletter:
---
Who we are:
Jörg Luyken: Journalist based in Berlin since 2014. His work has been published by German and English outlets including der Spiegel, die Welt, the Daily Telegraph and the Times. Formerly in the Middle East.
Axel Bard Bringéus: Started his career as a journalist for the leading Swedish daily Svenska Dagbladet and has spent the last decade in senior roles at Spotify and as a venture capital investor. In Berlin since 2011.